Meet the dedicated, award-winning, and diverse staff of teachers and administrators at Playmates.
Our Teachers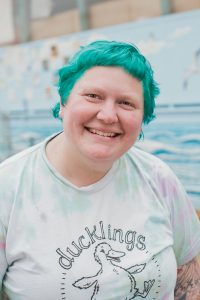 Kasie Carlisle – Preschool Lead Teacher
San Franciscan native Kasie Carlisle taught at Playmates from 2008-2013, and after a brief absence, she returned to her teaching capacity in 2015. With well over a decade's worth of experience working with children, she has a passion for introducing children to different experiences and tools that will prepare them for the next stages in their lives. Other than being well versed in play-based learning and social-emotional development, Kasie also has training as a Montessori teacher and is currently working towards her Site Supervisor permit.
As an avid surfer, Kasie brings her love for the ocean and outdoors into the classroom. She regularly organizes messy, sensory activities for her students which offer them both an educational and sensory experience. In her free time, she can be found creating and working on her art, surfing and swimming, reading, or spending time with her loved ones. A fun fact about Kasie is that her hair color changes regularly (one day it will be red, then purple the next). She has lots of tattoos which are mostly inspired by children stories.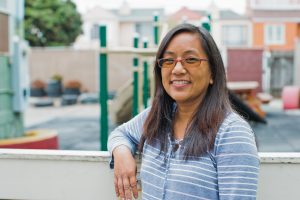 Angela Fernandez – Support Teacher
Angela studied Child Development at San Jose State University and has been working with children since 1998. For Angela, staying in this field for 20 years has been easy. She enjoys the important connections that are made between teachers and families, and of course, there's never a dull moment in the classroom!  Angela says, "The amount of growth that happens for children in the first 5 years of their lives is so vital and monumental that being a part of it is so amazing." Angela has previously worked at three other Child Development Centers, all of which followed the play-based model. But it wasn't until she enrolled her daughter at Playmates that she discovered how a true play-based program operated. Angela was amazed at the freedom the children received in order to discover their surroundings, being given the tools to solve their own problems and create their own worlds. Being a part of Playmates for Angela means helping children build the strong foundations they need in order to be successful in their futures. Angela currently holds her Associate Teacher permit and is working towards her Site Supervisor qualifications.  In her free time, Angela enjoys spending time with her family, baking, cooking, crafting, and eating the food that San Francisco has to offer.
Carrie Love – Extended Care Lead Teacher
To put it simply, Carrie once said, "I just love the family atmosphere" when referring to Playmates. As a former child of Playmates, she has now been teaching with us since Summer 2007, bringing an extremely unique perspective to our everyday programming. A natural athlete, she brings a lively sense of action to the playground and gross motor activities. This athletic flare holds truest in her love for the San Francisco Giants and Golden State Warriors. Carrie is a huge fan of both and spends part of her leisure time following San Francisco's home teams. Carrie currently holds her Associate Teacher permit and has a future goal of joining the nursing field.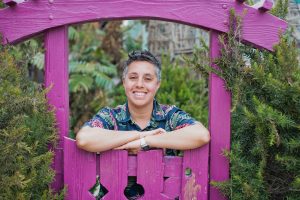 Lucas Sanchez – Support Teacher
Lucas grew up San Diego. They have also lived in Tucson, Chicago, and London, but have now called San Francisco their home for the past 6 years. They have a BA in Art with an emphasis in Conceptual Information Art from San Francisco State University. They also have a certificate from City College of San Francisco as a Child Development Practitioner and a California Site Supervisor permit. While at CCSF, they interned at Rocky Mountain Cooperative Nursery School. It was at Rocky Mountain that they fell in love with the community of parent participation schools.
Through the years Lucas has also had many jobs in the food and hair salon industry but feels now they have found their true career in early childhood education (ECE). They served in Americorps doing arts education while in Chicago, working with children from preschool through 12th grade. Being there planted the seed, working mainly with the Head Start children, which led Lucas to pursue a career years later in ECE. They feel privileged to be supporting and nurturing children in these crucial, formative years and understand the importance of the involvement of parents and caretakers in a child's early formal education, as they are the first and most important teachers in their child's life. Lucas believes that emotional intelligence (EQ) is just as important if not more important than IQ, and it is in these years that we have an opportunity to lay the foundation for the social and emotional skills that can foster a more successful and grounded individual in an unforeseeable future.
Outside of school Lucas loves to bike, is an ordained minister, and engages in conversation about gender diversity/equality and the role of technology in the evolution of humankind.
Benjamin Wilson – Young5 Lead Teacher
Benjamin joined Playmates in Fall 2013. A native Californian, Benjamin grew up in San Diego. He began working with children at a young age, babysitting his younger brothers and other children in the neighborhood. In college, Benjamin started a summer job as an assistant teacher, a job that began his initial intrigue about joining the field of early childhood education. After receiving his Associate of Arts in Child Development, he worked for the Waldorf School of San Diego while attending classes at the Waldorf teacher training program. With over a decade of experience in the field, Benjamin has been formally trained in both play-based and Waldorf curricula. When not working, Benjamin enjoys finding time to play his tuba or having friends over to play board games. Benjamin currently holds a Site Supervisor permit.
Our Administrators
Jarrod Rondeau – Executive Director
Jarrod joined Playmates in Summer 2017 after more than a decade's worth of work in early childhood education. Previously, Jarrod had worked in corporate childcare, language-immersion programs, special needs programs, Jewish faith preschools, and social service agencies, working with families from all socioeconomic backgrounds. When asked why he wanted to join Playmates, Jarrod said, "There's a climbing wall, chickens, and the world's largest sandbox. What's not to love?"
At Playmates, Jarrod has paid particular attention to the parent education program, which includes Parent Education Nights throughout the year. In 2014, Jarrod attended the annual NAEYC conference and taught a workshop about the evolution of LGBT literature for children. It was here that his passion for adult education began. When speaking with parents, he highlights what's most important in preschool programs: social/emotional development and play-based learning. His passion for providing programming centered around modern developmentally appropriate practices is reflected throughout the school.
Jarrod holds an MA in Applied Sociology from the University of Massachusetts Boston, as well as a Program Director permit. He has been trained in the Teaching Pyramid, play-based teaching, and social-emotional development.
Outside of education, Jarrod has completed four, seven-day cycling adventures, three within California and more recently in Zambia, Southern Africa. He considers himself a lifelong learner and enjoys social justice and advocacy work, particularly interested in LGBT/queer rights and the rights of the homeless.